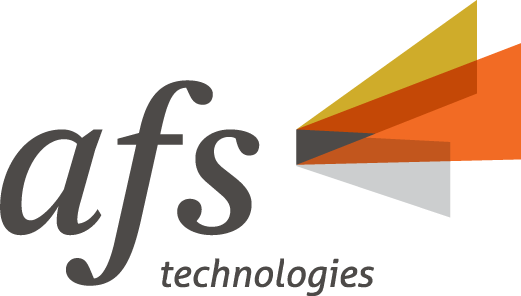 AFS Releases its New Suite of Products Using a Service Oriented Architecture (SOA) Based on Web Services and Built on the Microsoft .NET Framework 2.0
PHOENIX, AZ – Thursday, April 27, 2006 – AFS Technologies, Inc., ("AFS"), the leading provider of fully integrated software solutions to the food and beverage industry, announced today the availability of a new suite of products using a Service Oriented Architecture (SOA) based on Web Services, and built on the Microsoft .NET Framework 2.0.
AFS believes it is one of the first companies in the United States to release a suite of products using this leading edge technology, which is now the foundation for all of AFS products.
The new products available to the market now include:
General Ledger/Financial Statements – This package is compatible with most existing ERP systems; and would provide a quick upgrade to many old systems burdened with weak financial reporting.
Warehouse Management System (WMS) – This standalone product is designed to fit the specific needs of the food industry and can easily be interfaced with most ERP systems; and
Mobile Solutions including: Laptop Sales Management, Direct Store Delivery, Driver Delivery with Signature Capture, Order Entry on PDA using Windows CE or Pocket PC, and Web Based Order Entry.
AFS ERP – AFS' current windows-based ERP Product will also evolve into this new platform.
AFS' new SOA architecture provides customers with greater IT flexibility, increased scalability of their existing systems, and more powerful functionality, all at an affordable price. Food and beverage industry companies regardless of their current software supplier can now upgrade their current system, adding new modules independently; thereby avoiding the cost of replacing their current system and realizing a better return on their investment (ROI).
"I am pleased to announce that customers on AFS maintenance, as of March 31, 2006, can receive the new General Ledger/Financial Statement module as part of their Annual Maintenance Agreement with AFS. These new product releases demonstrate AFS's commitment to provide our existing customers with backwards compatibility, in order to protect their existing investment in hardware and software," said Kurien Jacob, AFS's Chief Executive Officer. "New customers will also appreciate and benefit from our new framework and database independent design, which has improved scalability and easier deployment, enabled by our new multi-tier architecture", added Mr. Jacob.
The Microsoft .NET framework is a component of the Windows operating system that manages the execution of programs written specifically for the framework. It is considered Microsoft's most significant development since the introduction of Windows. The framework uses internet-based, standard communications protocols like web services, XML and SOAP for improved connectivity, enabling seamless eCommerce and streamlined supply chain integration and management. Desktop applications, whether developed by AFS, a third-party, or Microsoft are more easily integrated using the common framework.
The framework was also specifically designed with vastly improved security and the ability to effectively support wireless applications run on handheld devices. Possibly the most significant benefit of the framework is the existence of pre-coded solutions in the framework's base class library that offers tested, pre-assembled building blocks for programmers to combine with their own code to create applications. This improves the robustness and quality of the applications developed and dramatically speeds the time to market for new releases. The AFS ERP product suite is designed to work in a Windows or UNIX environment and can use SQL, Oracle, DB2 or other industry standard databases.
"I was excited and very impressed with the functionality and flexibility demonstrated by these new tools, as it will make it easier for clients like us, who are on a legacy, character-based system, to move to the .NET architecture, without having to purchase an entire new system. AFS's technology strategy offers great value and flexibility to clients like us," said Vince Cigliano, an owner of Santa Monica Seafood Company, and the new President of AFS's Customer Advisory Board.
Supporting .NET allows for the adoption of a multi-tiered, service oriented architecture or SOA, which is conducive to delivering Web Services using loosely coupled applications over the internet between trading partners. Advantages of using Service Oriented Architecture include reduced integration expense, increased asset reuse, and shorter development periods, enabling quicker time to market. Another key aspect of the design is its tiered architecture consisting of a client, application, and database tier connected over a LAN or the internet for improved multi-location network performance. This also enables improved scalability to support growing transaction volumes by simply adding application or database servers at the proper tier.
"We decided to standardize our product suite around Microsoft's .NET framework when the industry's, and our own analysis, indicated that .NET would deliver our customers an optimal total cost of ownership, in terms of hardware, software and ongoing support, lower business transaction processing costs and better application performance," said Suhas Gudihal, AFS Chief Technology Officer. "This coupled with the fact that the .NET framework allows us to develop higher quality software, much faster and at a lower cost than before, really highlights the wisdom of our decision. Our existing customers are already enjoying the benefits of this new technology direction. "
About AFS Technologies, Inc.
AFSTechnologies, Inc. is the leading provider of fully-integrated, end-to-end business software solutions engineered exclusively for the food and beverage industries. The company serves over 230 customers across North America and the Caribbean with innovative, comprehensive and user-friendly solutions designed to reduce costs, increase efficiency, streamline internal processes and assist in regulatory compliances. Solutions available include complete distribution and financials, vendor rebate tracking, warehouse management, web order management, supply chain management, eCommerce, business intelligence, processing, and mobile sales & delivery products. For more information, please contact AFS Technologies, Inc. via email at info@afsi.com, by phone at (602) 522-8282 or visit us on the web at www.afsi.com