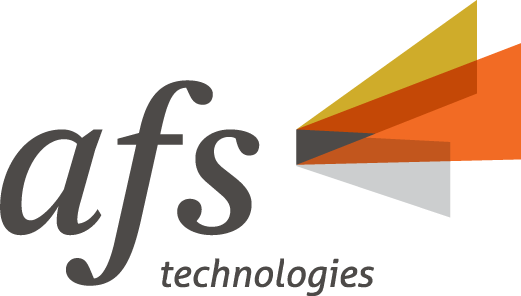 AFS Technologies Completes the Acquisition of DMS and Closes a $5.0 million Mezzanine Financing
PHOENIX, AZ – April 3, 2006 – AFS Technologies, Inc. ("AFS"), a leading provider of software solutions to the food industry, announced today that it had completed the acquisition of Distribution Management Systems, Inc. ("DMS"), a Milford, CT-based provider of software solutions to the food and beverage industries, for cash and stock.  With the acquisition, AFS now serves over 230 customers, will employ over 100 professionals, and will be headquartered in Phoenix, with an east coast office in Milford, CT and a development facility in Bangalore, India.
AFS also announced today that it had closed a $5.0 million financing, comprised of mezzanine and equity capital, provided by Merion Investment Partners, L.P., a King of Prussia, PA-based mezzanine capital firm.  A portion of the proceeds was used to facilitate the acquisition of DMS, and the remaining will be used for working capital purposes and possible further acquisitions.  The Argentum Group ("Argentum"), a New York-based private equity firm, and AFS's majority shareholder, played an integral role in facilitating these transactions.
"I am very pleased with the acquisition of DMS as both companies complement each other well, in that AFS brings a substantial capital investment in the development of its .NET framework and DMS's management brings deep domain expertise in market segments that are new to AFS.  Thus, DMS's customers will be offered broader product offerings on a leading edge technology platform, and more process oriented product development and customer support, ensuring high quality deployments," said Kurien Jacob, AFS's CEO.  "AFS now offers to the food and beverage industries the only solution that provides a complete suite of fully integrated software applications, utilizing a database independent design and a Service Oriented Architecture (SOA)," Jacob added.
"Merion is excited to have the opportunity to support the growth of AFS," said William Means, Managing Partner, Merion Investment Partners, L.P..  "We believe the company has an excellent management team and the best enterprise software solution for the food and beverage industries."
"Our vision is to build a company that will become the premier software solutions provider to the food and beverage industries; and the acquisition of DMS clearly provides the scale needed, and will position AFS firmly on that path," said Walter Barandiaran, Chairman of AFS and a Managing Partner of Argentum.
About AFS Technologies, Inc.
AFS Technologies, Inc. is a leading provider of fully-integrated, end-to-end business software solutions engineered exclusively for the food and beverage industries  The company serves over 230 customers across North America and the Caribbean with innovative, comprehensive and user-friendly solutions designed to reduce costs, increase efficiency, streamline internal processes and assist in regulatory compliances.  Solutions available include complete distribution and financials, vendor rebate tracking, warehouse management, web order management, supply chain management, eCommerce, business intelligence, processing, and mobile sales & delivery products.   For more information, please contact AFS Technologies via email at info@afsi.com, by phone at (602) 522-8282 or visit us on the web at www.afsi.com
About Merion Investment Partners, L.P.
Merion is the largest independent mezzanine fund headquartered in Pennsylvania and is focused on transactions ranging from $3 – $10 million to support organic growth, acquisitions, buyouts and generational transfer of ownership.  Merion can function as a one-stop shop to support smaller equity funds to round out their capital raise by providing both equity and debt or as a coupon only provider to larger funds in support  of buyouts or acquisitions.  Merion also seeks to work directly with entrepreneurs to support their acquisition strategies as well as provide them with liquidity to diversify concentrated wealth in their companies.  Visit us on the web at www.merionpartners.com.
About The Argentum Group
The Argentum Group is a New York-based private equity firm that provides expansion capital to rapidly growing small and mid-sized businesses with market leading potential. Argentum targets those industries experiencing rapid growth or undergoing fundamental change in the areas of outsourced services, healthcare, and technology. Argentum serves as general partner of investment partnerships with over $400 million of capital under management. Since its founding in 1988, Argentum has invested in over 100 companies across a broad range of industries. For more information, please visit: www.argentumgroup.com
Media Contact:
AFS Technologies, Inc.
Kurien Jacob
Chief Executive Officer
(602) 443-4222
kjacob@afsi.com
AFS Technologies, Inc.
Joseph Greene
President
(203) 874-6019
joe.greene@dmsinconline.com
The Argentum Group
Walter H. Barandiaran
Managing Partner
(212) 949-6262
walter@argentumgroup.com
Merion Investment Partners, L.P.
William M. Means
Managing Partner
(610) 992-5881
info@merionpartners.com