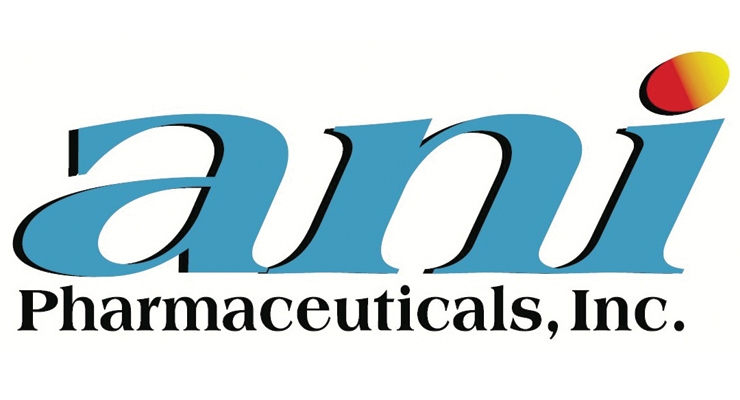 ANI Acquires 31 Drug Products from Teva
BAUDETTE, Minn., Dec. 26, 2013 – ANI Pharmaceuticals, Inc. (NASDAQ: ANIP), an emerging generic pharmaceutical company, today announced that it has acquired 31 previously marketed generic drug products from Teva Pharmaceuticals for $12.5 million in cash and a percentage of future gross profits from product sales.  The acquisition includes 20 solid-oral immediate release products, 4 extended release products and 7 liquid products.  ANI will begin work immediately on transferring these products into its manufacturing facilities in anticipation of product launches beginning in the fourth quarter of 2014.  All of these products have been previously approved by FDA as abbreviated new drug applications (ANDAs).  The total current annual market for these products is $860 million per IMS Health.
Arthur S. Przybyl, President and CEO of ANI Pharmaceuticals, stated, "This acquisition is a significant opportunity for ANI to expand our generic product portfolio beyond our current seven marketed products.  When launched, these products will strengthen our business by growing our revenue base and leveraging our manufacturing capabilities.  We are excited that this transaction extends the ANI-Teva relationship beyond the existing generic testosterone gel partnership."
Robert W. Schrepfer, VP of New Business Development, commented, "This transaction demonstrates ANI's commitment to diversify our marketed product portfolio and supplement our internal product development efforts through a business development plan that includes partnerships, acquisitions and in-licensing."
About ANI
ANI is an integrated specialty pharmaceutical company developing, manufacturing, and marketing branded and generic prescription pharmaceuticals. In two facilities with combined manufacturing, packaging and laboratory capacity totaling 173,000 square feet, ANI manufactures oral solid dose products, as well as liquids and topicals, including narcotics and those that must be manufactured in a fully contained environment due to their potency and/or toxicity. ANI also performs contract manufacturing for other pharmaceutical companies. Over the last two years ANI has launched three new products and has twelve products in development. ANI's targeted areas of product development include narcotics, anti-cancers and hormones (potent compounds), and extended release niche generic product opportunities. ANI's other products include an FDA-approved testosterone gel, which is licensed to Teva Pharmaceuticals USA. For more information please visit our website www.anipharmaceuticals.com.
Forward-Looking Statements
To the extent any statements made in this release deal with information that is not historical, these are forward-looking statements under the Private Securities Litigation Reform Act of 1995. Such statements include, but are not limited to, statements about the potential benefits of the merger, the combined company's plans, objectives, expectations and intentions with respect to future operations and products, the anticipated financial position, operating results and growth prospects of the combined company and other statements that are not historical in nature, particularly those that utilize terminology such as "anticipates," "will," "expects," "plans," "potential," "future," "believes," "intends," "continue," other words of similar meaning, derivations of such words and the use of future dates. Forward-looking statements by their nature address matters that are, to different degrees, uncertain. Uncertainties and risks may cause the combined company's actual results to be materially different than those expressed in or implied by such forward-looking statements. Uncertainties and risks include the risk that the Company may in the future be required to seek FDA approval for its unapproved products or withdraw such products from the market; the Company may fail to meet NASDAQ listing requirements; general business and economic conditions; the Company's need for and ability to obtain additional financing; the difficulty of developing pharmaceutical products, obtaining regulatory and other approvals and achieving market acceptance; and the marketing success of the Company's licensees or sublicensees. More detailed information on these and additional factors that could affect the Company's actual results are described in the Company's filings with the Securities and Exchange Commission, including its most recent annual report on Form 10-K and this quarterly report on Form 10-Q, as well as its proxy statement/prospectus, filed with the Securities and Exchange Commission on May 8, 2013. All forward-looking statements in this release speak only as of the date made and are based on the Company's current beliefs and expectations. The Company undertakes no obligation to update or revise any forward-looking statement, whether as a result of new information, future events or otherwise.
Contact:
ANI Pharmaceuticals
218-634-3500
SOURCE ANI Pharmaceuticals, Inc.