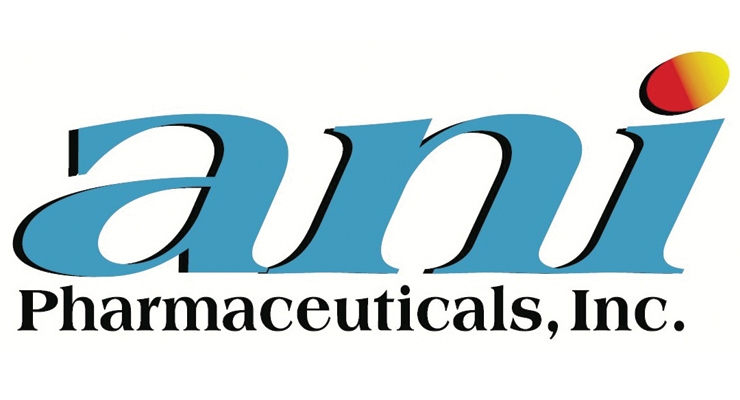 ANI Closes Public Offering
BAUDETTE, Minn., March 10, 2014 — ANI Pharmaceuticals, Inc. (the "Company") (ANIP), today announced the closing of its previously announced underwritten public offering of 1,612,903 shares of common stock, at a price to the public of $31.00 per share and for gross proceeds of $50.0 million. The shares include 210,378 shares of common stock sold pursuant to the over-allotment option granted by ANI to the underwriters, which option was exercised in full. ANI expects net proceeds of the offering will be approximately $46.8 million, after deducting underwriting commissions and other offering expenses. Oppenheimer & Co. Inc. and Roth Capital Partners acted as joint book-running managers for the offering.
Arthur S. Przybyl, President and CEO, stated, "We are thrilled with the response we received from interested investors in this offering. The proceeds from this offering are intended to enable ANI's growth through acquisitions and to further our product pipeline. ANI currently has 44 products under various stages of development, with a combined market of over $1.7 billion, per IMS Health."
he securities described above were issued by ANI pursuant to its existing shelf registration statement under the Securities Act of 1933, as amended. A prospectus supplement and accompanying prospectus related to the offering was filed with the SEC on March 5, 2014. Copies of the prospectus supplement and the accompanying prospectus relating to this offering may be obtained by contacting Oppenheimer & Co. Inc., Attention: Syndicate Prospectus Department, 85 Broad Street, 26th Floor, New York, NY 10004, or by telephone at (212) 667-8563, or by email at EquityProspectus@opco.com, or from Roth Capital Partners, LLC, Attention: Equity Capital Markets, 888 San Clemente Drive, Newport Beach, CA 92660, (800) 678-9147, rothecm@roth.com.
About ANI Pharmaceuticals
The Company is an integrated specialty pharmaceutical company developing, manufacturing, and marketing branded and generic prescription pharmaceuticals. The Company's targeted areas of product development currently include narcotics, oncolytics (anti-cancers), hormones and steroids, and complex formulations involving extended release and combination products. For more information, please visit ANI's website, www.anipharmaceuticals.com.
Forward-Looking Statements
This press release contains forward-looking statements within the meaning of the safe harbor provisions of the Private Securities Litigation Reform Act of 1995.  Such statements include, but are not limited to, statements about the potential benefits of the recent Merger, the Company's plans, objectives, expectations and intentions with respect to future operations and products, the anticipated financial position, operating results and growth prospects of the Company and other statements that are not historical in nature, particularly those that utilize terminology such as "anticipates," "will," "expects," "plans," "potential," "future," "believes," "intends," "continue," other words of similar meaning, derivations of such words and the use of future dates. Forward-looking statements by their nature address matters that are, to different degrees, subject to change. You should not place undue reliance on those statements because they are subject to numerous uncertainties, risks and other factors relating to the Company's operations and business environment and other factors, all of which are difficult to predict and many of which are beyond the Company's control.
Uncertainties and risks may cause the Company's actual results to be materially different than those expressed in or implied by such forward-looking statements. Uncertainties and risks include, but are not limited to, the risk that the Company may in the future face increased difficulty in importing raw materials and/or increased competition, for its Esterified Estrogen with Methyltestosterone Tablet product; competitive conditions for the Company's other products may intensify; the Company may be required to seek the approval of the U.S. Food and Drug Administration ("FDA") for its unapproved products or withdraw such products from the market; general business and economic conditions; the Company's expectations regarding trends in markets for the Company's current and planned products; the Company's future cash flow and its ability to support its operations; the Company's ability to obtain additional financing as needed; the difficulty of developing pharmaceutical products, obtaining regulatory and other approvals and achieving market acceptance of such products; and the marketing success of the Company's licensees or sublicensees.
These factors should not be construed as exhaustive and should be read in conjunction with the Company's other disclosures, including but not limited to the Company's Annual Report on Form 10-K for the year ended December 31, 2013 filed with the SEC on February 28, 2014, including the factors described in "Item 1A. Risk Factors." Other risks may be described from time to time in our filings made under the securities laws, including our quarterly reports on Form 10-Q and our current reports on Form 8-K. There may be additional risks, uncertainties and factors that we do not currently view as material or that are not known.  The forward-looking statements contained in this document are made only as of the date of this document.  The Company undertakes no obligation to update or revise any forward-looking statement, whether as a result of new information, future events or otherwise.
For more information about ANI, please contact:
Arthur S. Przybyl
(218) 634-3608
arthur.przybyl@anipharmaceuticals.com