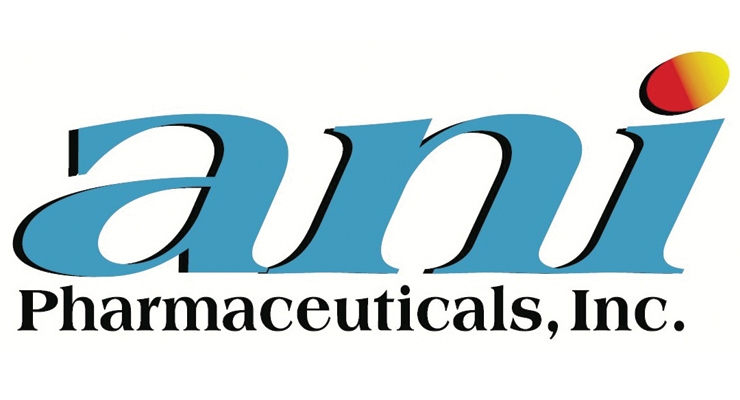 ANI to Acquire Two NDAs from Merck for $75 Million
Baudette, MN – September 21, 2015 – ANI Pharmaceuticals, Inc. ("ANI") (NASDAQ: ANIP) today announced that it has agreed to acquire the NDAs for purified corticotropin gel and corticotropin zinc hydroxide from Merck (known as MSD outside of the United States and Canada) for $75 million in cash and a percentage of future net sales. ANI estimates that the current annual U.S. market for the products it is acquiring is approximately one billion dollars as evidenced by sales of H.P. Acthar® gel marketed by Mallinckrodt Pharmaceuticals. The acquisition is being funded through cash on hand and is subject to certain customary closing conditions.
Corticotropin gel is a purified corticotropin (ACTH) in a sterile solution of gelatin for prolonged activity. Corticotropin-zinc hydroxide (sterile corticotropin zinc hydroxide suspension USP) is a sterile aqueous suspension of purified corticotropin (ACTH) with zinc hydroxide for repository action. The products are approved for various disease states including Multiple Sclerosis, Rheumatic disorders, Dermatologic diseases, and a variety of Collagen, Ophthalmic, Respiratory diseases as well as Allergic and Edematous states.
As part of its acquisition strategy, ANI has determined to pursue the formation of one or more foreign subsidiaries to effect its acquisitions, manufacture products and/or provide other ancillary services. It is expected that this acquisition from Merck will be effected through one of such subsidiaries. It is anticipated that this will enable ANI to achieve a lower over-all tax rate for its operations.
ANI will host a conference call to discuss the transaction at 10:00am eastern time today. The call will be open to the public and can be accessed through a conference line by dialing (855) 582-8078. The conference ID is 43851450. A recording of the conference call will be available within two hours of the completion of the call and will remain accessible for a period of seven days following the call. To access the replay, dial (855) 859-2056. The access code for the replay is 43851450. This press release and a slide presentation have been posted to the Investor Relations section of the Company's website, www.anipharmaceuticals.com.
Arthur S. Przybyl, President and CEO of ANI Pharmaceuticals stated, "This acquisition is intended to enable us to compete in a one billion dollar branded market alongside H.P. Acthar® gel. We are confident in our ability to re-commercialize these products."
Robert W. Schrepfer, VP Business Development of ANI Pharmaceuticals, commented, "This represents a transformational opportunity for ANI that remains consistent with our strategy of acquiring and re-commercializing previously approved products. We have added a unique and substantial opportunity to our expanding product pipeline and by establishing a new foreign platform we feel that ANI has set the stage for long term growth both organically and through future acquisitions."
About ANI
ANI Pharmaceuticals, Inc. (the "Company" or "ANI") is an integrated specialty pharmaceutical company developing, manufacturing, and marketing branded and generic prescription pharmaceuticals. The Company's targeted areas of product development currently include narcotics, oncolytics (anti-cancers), hormones and steroids, and complex formulations involving extended release and combination products. For more information, please visit our website www.anipharmaceuticals.com.
Forward-Looking Statements
To the extent any statements made in this release deal with information that is not historical, these are forward-looking statements within the meaning of the Private Securities Litigation Reform Act of 1995. Such statements include, but are not limited to, statements about price increases, the Company's future operations, products financial position, operating results and prospects , the Company's pipeline or potential markets therefore, and other statements that are not historical in nature, particularly those that utilize terminology such as "anticipates," "will," "expects," "plans," "potential," "future," "believes," "intends," "continue," other words of similar meaning, derivations of such words and the use of future dates.
Uncertainties and risks may cause the Company's actual results to be materially different than those expressed in or implied by such forward-looking statements. Uncertainties and risks include, but are not limited to, the risk that the Company may face with respect to importing raw materials; increased competition; delays or failure in obtaining product approval from the U.S. Food and Drug Administration; general business and economic conditions; market trends; products development; regulatory and other approvals and marketing.
More detailed information on these and additional factors that could affect the Company's actual results are described in the Company's filings with the Securities and Exchange Commission, including its most recent annual report on Form 10-K and quarterly reports on Form 10-Q, as well as its proxy statement. All forward-looking statements in this news release speak only as of the date of this news release and are based on the Company's current beliefs, assumptions, and expectations. The Company undertakes no obligation to update or revise any forward-looking statement, whether as a result of new information, future events or otherwise.