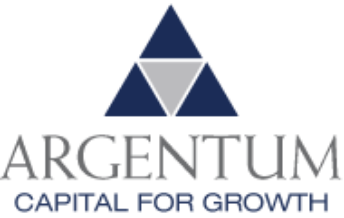 Argentum Announces 4 Exits and 5 Add-On Acquisitions in First 9 Months of 2011
Exits Generate 6x Aggregate Cash-on-Cash Returns
We are pleased to share the highlights of a very successful first nine months of the year for Argentum. We have realized significant gains in four exits and have created additional value in our current portfolio through supporting five acquisitions made by existing platform companies. These exits have resulted in significant distributions to our limited partners and set the stage for our new fund (ACP III) that will be raised in 2012.
These successful transactions bring to 15 the total number of portfolio companies that have executed profitable liquidity events in Argentum Capital Partners II (ACP II).

ReSearch Pharmaceutical Services ("RPS"), a next generation CRO that provides comprehensive global Phase 1-4 clinical development solutions to the pharmaceutical industry, was acquired in February 2011 by affiliates of Warburg Pincus in an all cash transaction valued at $260 million. Argentum led the original management buyout of RPS in 2001 and generated total returns of 11.7x on its investment. During this period, RPS grew its revenue at a compound rate of 35.6% to nearly $300 million at time of exit.
Argentum sold its remaining shares in Metalico (Amex: MEA) during the first quarter of 2011. Metalico is a large regional scrap metal recycler and metals fabricator with annual revenues in excess of $600 million. Argentum was an investor in the initial equity financing for Metalico which enabled the original acquisition at the company's inception. Since then, the company has successfully integrated more than eight acquisitions to build a highly profitable business. Argentum generated total returns of 3.1x on its investment in Metalico.
LifeStar Response, a leading East Coast operator of emergency medical transportation services, was acquired in February 2011 by Falck A/S, the largest privately-owned ambulance company in Europe. Falck plans to utilize LifeStar as a platform to expand within the United States market. Since Argentum led LifeStar's initial equity financing, the company grew both organically and through the integration of over fifteen acquisitions to reach a revenue level of over $100 million at time of exit. Argentum received a 2.4x return on its investment in LifeStar.
AFS Technologies is the leading provider of business enterprise and on-demand software solutions to the Food & Beverage industries, serving over 1,200 customers across North America. The AFS technology platform is modular in design and utilizes a service-oriented architecture (SOA) built with the Microsoft .NET Framework. Argentum was the lead investor in AFS which grew organically and through twelve acquisitions to become a market leader in its segments. AFS was acquired in September 2011 by Goldman Sachs and Argentum generated a 6.5x return on its investment.
Portfolio Acquisition Activity Highlighted by EQM/Beacon Merger and QPS transactions
In February, EQM, an environmental and engineering services company that is majority-owned by Argentum, merged with Beacon Energy Holdings (OTC: EQTE.PK), an owner and operator of biofuels facilities. The merger, which was orchestrated by Argentum, provides EQM with ownership of Beacon's valuable biofuels assets and a public platform to support its acquisition strategy; while providing Beacon with the capital to scale-up plant operations, a seasoned management team to operate the assets, and a profitable parent company that offers financial stability. The transaction resulted in Argentum obtaining an ownership stake of approximately 50% in the resulting publicly-traded holding company and demonstrates the firm's creative and proactive approach towards building value within its portfolio.
In the first quarter of 2011, QPS, a leading pre- clinical and early stage clinical contract research organization (CRO), completed three acquisitions that continue to broaden its service offerings and expand its global capabilities. Having now completed 4 foreign acquisitions within a span of 9 months, QPS has built one of the world's largest bioanalytical capacities as well as developed a full-service capability to bring pharmaceutical compounds to the IND stage. Argentum has taken the lead role in assisting QPS execute its acquisition strategy.