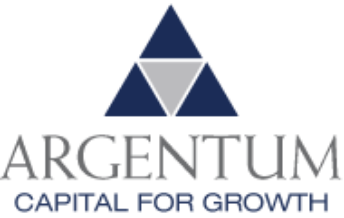 Argentum Announces Two Promotions in Connection with its New Fund
Argentum, a growth equity firm that partners with bootstrap and entrepreneurial owners to build industry-leading B2B software, technology-enabled, and business services companies, is pleased to announce two promotions in connection with the recent launch of its new fund, Argentum Capital Partners IV, L.P. ("ACP IV").
The Firm congratulates Sohum Doshi on his promotion to Vice President and Jean Parker on her promotion to Director, Business Development.
Commenting on the promotions, Daniel Raynor, co-Founder and Managing Partner, said, "Sohum and Jean have been important contributors to the firm's success, especially in helping us to get off to such a fast start with our new fund and playing key roles in enabling ACP IV to close its first few investments."
Walter Barandiaran, co-Founder and Managing Partner, commented, "We are excited to have Sohum and Jean emerge as valuable members of our team and look forward to their taking on increasing levels of responsibility. We believe they will play important future roles as Argentum continues to grow and successfully executes its investment strategy of supporting rapidly growing, bootstrapped businesses."

Sohum Doshi
Vice President
A member of the team since 2018, Sohum has leveraged his prior experiences as a consultant at Oliver Wyman and at a growing tech company to make impactful contributions to Argentum. He has proactively sourced and evaluated new investment opportunities and assisted portfolio companies in executing their business strategies. Sohum played a key role in originating and closing ACP IV's recent investment in MessageGears and works closely with existing portfolio companies AdhereTech, EmpowerMX, Mediant and TPS.

Jean Parker
Director, Business Development
With a background in sales and trading at Citi and a successful track-record across strategic sales and technology from her prior roles at Preqin and Axial, Jean has leveraged her diverse experience to make several important contributions to Argentum's business development efforts since joining the firm in 2019. She originated ACP IV's recent investments in SmartCommerce, Impact Analytics and MessageGears and continues to build a robust pipeline of investment opportunities.
About Argentum
Argentum is a New York-based growth equity firm that partners with entrepreneurial owners to build industry-leading B2B software, technology-enabled and business services companies. The firm invests in companies with revenues of $5 million to $25 million, providing capital to accelerate growth, fund acquisitions and / or generate shareholder liquidity. Over its 30-year history, Argentum has invested in 90 companies and supported more than 200 add-on acquisitions. Argentum fills the growing gap between early-stage venture capital investors and later stage growth equity firms by targeting bootstrapped companies seeking $5 million to $15 million of equity capital.