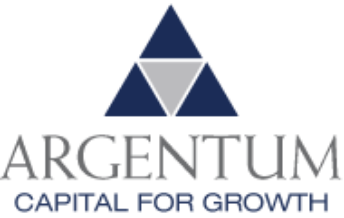 Argentum Closes Third Growth Equity Fund
New York, NY – April 29, 2015 – The Argentum Group ("Argentum") is pleased to announce the final closing of Argentum Capital Partners III, L.P. ("ACP III") with total capital of $116 million. ACP III continues Argentum's 25-year history of providing growth capital to support buy-and-build investment strategies of high-growth service businesses at the smaller end of the middle market.
ACP III targets companies with revenues of $5 to $30 million in selected industries, including technology-enabled-services, healthcare/pharmaceutical services, logistics/transportation services, business services, and industrial/environmental services. Argentum makes initial investments of $3 to $10 million and is generally the first institutional investor in its portfolio companies. The firm focuses on industry segments in which it has prior investment experience so it can maximize the added-value it brings to its portfolio companies.
"We differentiate ourselves from most private equity funds by executing buy-and-build strategies with smaller platform companies, enabling boot-strap entrepreneurs the opportunity to develop into industry leading companies by accessing institutional capital at an earlier stage," said Daniel Raynor, co-Managing Partner at Argentum. "Since we make both minority and control investments and are flexible in terms of our investment structure, entrepreneurs can retain a larger share of their business, while partnering with a team that has an outstanding record of building industry leading companies."
Walter Barandiaran, co-Managing Partner at Argentum, said, "We are grateful to our existing limited partners for their continued support and are pleased to welcome several new institutional investors. ACP III's limited partners include CEOs and other C-level operating executives of prior Argentum portfolio companies, and we utilize this executive talent pool to support our management teams. Already, two limited partners have joined the boards of our first two investments."
ACP III is off to an excellent start with its initial two platform investments – Mediant Communications and ITS Compliance – performing exceptionally well, and a third investment expected to close shortly.
About Argentum
Argentum invests in rapidly growing service businesses at the smaller end of the middle-market. We provide capital to support buy-and-build strategies by businesses that can scale into much larger enterprises through a combination of organic growth and targeted acquisitions. Since raising our first fund in 1990, we have invested in over 70 companies and supported over 175 add-on acquisitions by our portfolio companies. Learn more at www.argentumgroup.com.