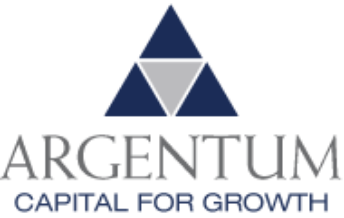 Argentum Named SBIC of the Year by U.S. SBA
SBA Recognizes Argentum for its Successful History of Supporting Small Businesses
New York, NY – April 26, 2016 – Argentum, a NYC-based private equity fund manager that has been providing growth capital and strategic guidance to small, rapidly growing companies for more than 25 years, is proud to announce that is has been selected as the 2016 Small Business Investment Company ("SBIC") of the Year by the U.S. Small Business Administration.
"We are honored to be named as SBIC of the year for 2016." said Daniel Raynor, co-founder and Managing Partner of Argentum. "Since the licensing of our first SBIC fund in 1990, the SBA has been an invaluable partner in providing us with capital that has allowed us to support nearly 80 growing businesses across the United States. The SBIC program helps fill a vital need in the lower-middle market, an important and under-served part of the economy and we look forward to continuing our relationship with the Small Business Administration in helping to support more job-creating businesses."
Since 1963, the President has designated one week each year as National Small Business Week. This year's celebration takes place May 1st to 7th in Washington DC. "National Small Business Week is an important moment when we honor our nation's 28 million small businesses and renew our commitment to fostering the entrepreneurial spirit that is central to small business success. This year's recipients are educators and dynamic leaders in their respective small business fields. It is an honor to celebrate their hard work and success," said SBA Administrator Maria Contreras-Sweet.
Walter H. Barandiaran, co-founder and Managing Partner of Argentum added "It is gratifying to have supported so many small businesses and to have been part of the creation of jobs in the U.S. economy. Having worked closely with the SBA for so many years, we believe strongly that the SBIC program provides a perfect example of the benefits of a focused, well-structured private-public partnership."
About the Small Business Investment Company Program
The U.S. Small Business Administration Office of Investment and Innovation SBIC Program is a multi-billion dollar, government-sponsored investment fund created in 1958 to bridge the gap between entrepreneurs' need for capital and traditional sources of financing. SBA invests long-term capital in privately owned and managed investment firms licensed as Small Business Investment Companies ("SBIC"). For every $1 an SBIC raises from a private investor, the SBA will typically provide $2 of debt capital, subject to a cap of $150 million. Once capitalized, SBICs make debt and equity investments in some of America's most promising small businesses, helping them grow. For additional information, contact SBA at asksbic@sba.gov.
About Argentum
Argentum is a New York-based growth equity firm that supports entrepreneurial owners in building industry-leading companies. The firm partners with management teams of companies with revenues of $5 million to $25 million to provide capital to accelerate growth, fund acquisitions or generate shareholder liquidity. Since raising its first fund in 1990, Argentum has invested in nearly 80 companies and supported more than 180 add-on acquisitions in technology, healthcare and other high growth service sectors. Learn more at www.argentumgroup.com.