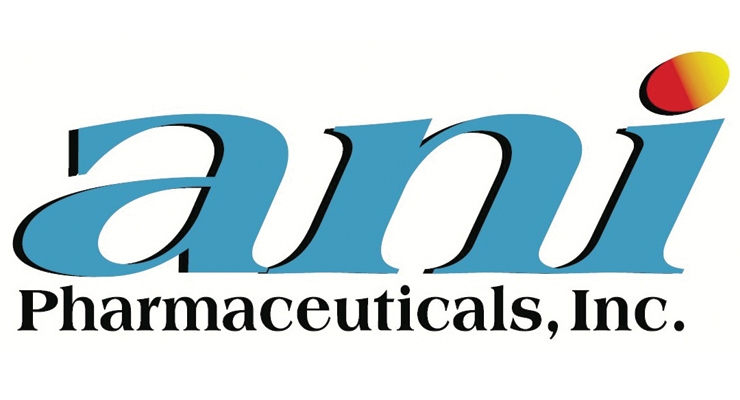 BioSante and ANI Complete Merger
BAUDETTE, Minn.–(BUSINESS WIRE)– BioSante Pharmaceuticals, Inc. (BPAX) announced today that it has completed the merger of its wholly-owned subsidiary with and into ANIP Acquisition Company d/b/a ANI Pharmaceuticals, Inc. (ANI) in accordance with the terms of the amended and restated agreement and plan of merger, dated as of April 12, 2013. In connection with the merger, BioSante issued to the holders of ANI series D convertible preferred stock an aggregate of 32,814,504 shares of BioSante common stock, representing approximately 57 percent of the outstanding shares of BioSante common stock immediately following the merger.
Arthur S. Przybyl, BioSante's new president and chief executive officer stated, "I'm excited to announce the completion of our merger. This merger is the catalyst for potential future growth. We now have a strong balance sheet with over $10 million in cash and no debt. We expect to utilize the incremental cash available to us as a result of this merger in two ways: to accelerate our product development efforts and for potential accretive acquisitions. We do not expect to need this cash to fund day-to-day operations. In addition, we expect to receive royalty payments from sales of our FDA-approved testosterone gel product that is partnered with Teva, while exploring opportunities to derive value from BioSante's other assets, including LibiGel®. Our entire team is eager to continue building BioSante as an integrated specialty branded and generic pharmaceutical company for the benefit of our stakeholders."
Mr. Przybyl continued, "In 2007 we acquired two manufacturing facilities and their related contract manufacturing business that became the catalyst to launch our own prescription product line. In 2008 we launched the ANI label and we have steadily increased our annual prescription product revenues while continuing to execute on our contract manufacturing business. We currently manufacture and market seven prescription products that we either developed internally or acquired. ANDAs for five additional generic products are pending at the FDA and we expect to submit six additional ANDAs in the remainder of 2013. These eleven generic products address a total annual market size of approximately $760 million, based on data from IMS Health."
BioSante now operates under the leadership of ANI's management team. In addition to Mr. Przybyl, the new board of directors of BioSante consists of Robert E. Brown Jr., Tracy L. Marshbanks, Ph.D. Thomas A. Penn and Robert Schrepfer (all formerly of ANI), as well as Fred Holubow and Ross Mangano (both formerly of BioSante).
The completion of the merger, which was effective June 19, 2013, followed the approval of proposals relating to the merger by the stockholders of both companies at separate special meetings. Post-merger, BioSante now has 57.2 million shares of common stock and 65,211 shares of class C special stock outstanding.
Immediately prior to completion of the merger, the BioSante board of directors authorized, declared and effected a distribution of contingent value rights (CVRs) to holders of record of BioSante common stock outstanding immediately prior to completion of the merger at a rate of one CVR per one share of common stock. The CVRs represent payment rights arising from a future sale, transfer, license or similar transaction(s) involving BioSante's LibiGel® (female testosterone gel), including a royalty on sales of LibiGel® if the combined company launches the product on its own and if less than $2.5 million is spent on further product development before launch.
About BioSante and ANI
BioSante is an integrated specialty branded and generic pharmaceutical company developing, manufacturing, and marketing branded and generic prescription pharmaceuticals through its wholly-owned subsidiary, ANI. In two facilities with combined manufacturing, packaging and laboratory capacity totaling 173,000 square feet, ANI manufactures oral solid dose products, as well as liquids and topicals, including narcotics and those that must be manufactured in a fully contained environment due to their potency and/or toxicity. ANI also performs contract manufacturing for other pharmaceutical companies. Over the last two years ANI has launched three new products and has eleven products in development. ANI's targeted areas of product development include narcotics, anti-cancers and hormones (potent compounds), and extended release niche generic product opportunities. BioSante's other products include an FDA-approved testosterone gel for male hypogonadism, which is licensed to Teva Pharmaceuticals USA, Inc. For more information please visit our websites, www.biosantepharma.com and www.anipharmaceuticals.com.
Forward-Looking Statements
To the extent any statements made in this release deal with information that is not historical, these are forward-looking statements under the Private Securities Litigation Reform Act of 1995. Such statements include, but are not limited to, statements about the potential benefits of the merger, the combined company's plans, objectives, expectations and intentions with respect to future operations and products, its anticipated financial position, operating results and growth prospects and other statements that are not historical in nature, particularly those that utilize terminology such as "anticipates," "will," "expects," "plans," "potential," "future," "believes," "intends," "continue," "should," "estimates," other words of similar meaning, derivations of such words and the use of future dates. Forward-looking statements by their nature address matters that are, to different degrees, uncertain. Uncertainties and risks may cause actual results to be materially different than those expressed in or implied by such forward-looking statements. Particular uncertainties and risks include, among others, the failure to realize the anticipated benefits from the merger or delay in realization thereof; the businesses of BioSante and ANI may not be combined successfully, or such combination may take longer, be more difficult, time-consuming or costly to accomplish than expected; operating costs and business disruption following the merger, including adverse effects on employee retention and on business relationships with third parties; the risk that the combined company will need the incremental cash resulting from the merger for day-to-day operations, reducing the amount available for product development efforts and potential acquisitions; the risk that royalty payments from sales of the company's FDA-approved testosterone gel product will be lower than expected; the risk that the CVRs may not result in future payments to the holders thereof; general business and economic conditions; the combined company's need for and ability to obtain additional financing; the difficulty of developing pharmaceutical products, obtaining regulatory and other approvals and achieving market acceptance; and the marketing success of the combined company's licensees or sublicensees. More detailed information on these and additional factors that could affect the combined company's actual results are described in BioSante's filings with the Securities and Exchange Commission, including its most recent annual report on Form 10-K and quarterly report on Form 10-Q, as well as BioSante's joint proxy statement/prospectus, filed with the Securities and Exchange Commission on May 8, 2013. All forward-looking statements in this news release speak only as of the date of this news release and are based on the combined company's current beliefs and expectations. The combined company undertakes no obligation to update or revise any forward-looking statement, whether as a result of new information, future events or otherwise.
Photos/Multimedia Gallery Available: http://www.businesswire.com/multimedia/home/20130620005348/en/
MULTIMEDIA AVAILABLE:http://www.businesswire.com/cgi-bin/mmg.cgi?eid=50656495&lang=en
Contact:
For more information about BioSante and ANI, please contact:
Arthur S. Przybyl
(218) 634-3608
aprzybyl@biosantepharma.com