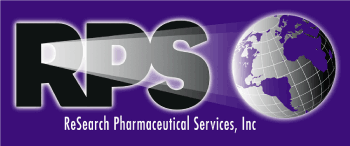 ReSearch Pharmaceutical Services to be Acquired by Warburg Pincus
Fort Washington, PA – December 28, 2010 – ReSearch Pharmaceutical Services, Inc. (RPS) announced today it has entered into an agreement to sell the company to affiliates of Warburg Pincus, LLC, the global private equity firm, in an all cash transaction valued at $6.10 per share. The Board of Directors of RPS unanimously approved the acquisition agreement and recommended that RPS shareholders approve the transaction.  It is presently anticipated that closing of the transaction will occur in February 2011.
RPS is a next generation CRO that provides comprehensive global Phase 1-4 clinical development solutions to the pharmaceutical, biotechnology and medical device industries.  With its experienced clinical research operations infrastructure and the industry's largest resourcing engines, RPS is uniquely positioned to offer clients a broad spectrum of outsourcing solutions ranging from globally embedded functional and cross-functional solutions to enhanced global full-service solutions.
"With the rapid organic expansion of RPS, it is important that we look to the future growth of our company and further leverage the unique business model we bring to the biopharmaceutical industry, fortifying our financial structure and industry expertise to successfully execute our model and continue to expand our capabilities.  In Warburg Pincus we have found a partner with both the financial strength and relevant industry experience  to enable us to accelerate the execution of our growth strategy," said Daniel M. Perlman, Chairman and CEO of RPS. "This partnership emphasizes our commitment to our employees and clients to continue to deliver innovative global business solutions encompassing world class quality with significant cost savings," Perlman added.
"We are delighted to partner with Dan Perlman and the management team at RPS," said Jonathan S. Leff, Managing Director, Warburg Pincus. "Dan and his team have built and grown the company based on a pioneering vision and strategy. The company's unique integrated outsourcing model has attracted many of the world's leading pharmaceutical and biotechnology companies as customers, by delivering cost savings and enhanced flexibility while allowing customers to maintain control of their clinical trials."
RPS intends to continue advancing its current strategy under the leadership of its existing management team. In addition, the company, together with its new financial partner Warburg Pincus, will look for opportunities to accelerate its growth through the development of enhanced service offerings and expanded international capabilities.
Jefferies & Company Inc. is acting as exclusive financial advisor and Drinker Biddle & Reath LLP is acting as legal advisor to RPS.
Kirkland & Ellis LLP is acting as legal advisor to Warburg Pincus.
The transaction is subject to various closing conditions, including the filing with the Securities and Exchange Commission (SEC) of an Information Statement on Schedule 14C and the distribution of the Information Statement to all of RPS's stockholders.  Please refer to RPS's Current Report on Form 8-K to be filed with the SEC for information about the transaction.
About RPS
Founded in 1998 by Daniel M. Perlman, RPS implemented its business plan to build the industry's first embedded clinical solution model. This innovative new business model was created specifically to address the anticipated challenges facing the biopharmaceutical industry, including the need to contain costs, improve quality and accelerate the drug development process. The RPS plan was dedicated to achieving the goal of providing the biopharmaceutical industry with an alternative to traditional CRO outsourcing models by offering customized, integrated solutions that addressed these fundamental industry challenges. Our unique ability to leverage our client's existing processes and systems; create innovative new processes that improve productivity, speed and quality; and provide highly experienced staff to manage and execute activities at the direction of the client is the foundation of the RPS integrated model. Each RPS solution is customized to meet the unique needs of small, medium, and large biopharmaceutical companies. For more information, go to http://www.rpsweb.com .
About Warburg Pincus
Warburg Pincus is a leading global private equity firm. The firm has more than $30 billion in assets under management. Its active portfolio of more than 110 companies is highly diversified by stage, sector, and geography. Warburg Pincus is a growth investor and an experienced partner to management teams seeking to build durable companies with sustainable value. Founded in 1966, Warburg Pincus has raised 13 private equity funds which have invested more than $35 billion in over 600 companies in more than 30 countries. The firm has offices in Beijing, Frankfurt, Hong Kong, London, Mumbai, New York, San Francisco, São Paulo, and Shanghai. For more information, please visit www.warburgpincus.com .
Forward-Looking Statements
This announcement contains certain "forward-looking statements" within the meaning of the Private Securities Litigation Reform Act of 1995. These forward-looking statements include, among others, statements about RPS' beliefs, plans, objectives, goals, expectations, estimates and intentions that are subject to significant risks and uncertainties and are subject to change based on various factors, many of which are beyond our control. The words "may," "could," "should," "would," "believe," "anticipate," "estimate," "expect," "intend," "plan," "target," "goal," and similar expressions are intended to identify forward-looking statements. All forward-looking statements, by their nature, are subject to risks and uncertainties. RPS 's actual future results may differ materially from those set forth in our forward-looking statements. RPS's ability to achieve our objectives could be adversely affected by the factors discussed in our Annual Report on Form 10-K for the year ended December 31, 2009 filed with the United States Securities and Exchange Commission ("SEC"), as well as, among others: (1) macroeconomic condition and general industry conditions such as the competitive environment; (2) regulatory and litigation matters and risks; (3) legislative developments; (4) changes in tax and other laws and the effect of changes in general economic conditions; (5) the risk that a condition to closing of the transaction may not be satisfied; and (6) other risks to consummation of the transaction, including the risk that the transaction will not be consummated within the expected time period.
Additional Information
In connection with the merger, RPS will prepare an Information Statement to be filed with the SEC that will provide additional important information concerning the merger. When completed, a definitive Information Statement will be mailed to the stockholders of the Company. The Company's stockholders will be able to obtain, without charge, a copy of the Information Statement (when available) and other relevant documents filed with the SEC from the SEC's website at http://www.sec.gov . The Company's stockholders will also be able to obtain, without charge, a copy of the information statement and the other documents related to the merger (when available) upon written request to ReSearch Pharmaceutical Services, c/o Corporate Secretary (520 Virginia Drive, Fort Washington, PA 19034; (215) 540-0700) or from the Company's website, http://www.rpsweb.com ).
Media Contacts :
Steven Bell
ReSearch Pharmaceutical Services, Inc. Chief Financial Officer
215.540.0700
Rory Mackin
Warburg Pincus
212.878.9322
rory.mackin@warburgpincus.com