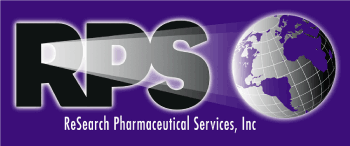 RPS Announces Acquisition of Another European CRO
ReSearch Pharmaceutical Services, Inc.
RPS announces acquisition of a European Clinical Research Organization further expanding RPS' global capabilities
ReSearch Pharmaceutical Services, Inc. ("RPS" or the "Company"), a leading provider of integrated clinical development outsourcing solutions to the bio-pharmaceutical industry, is today pleased to announce the acquisition of a European based privately-held corporation, Therapharm Recherches Th.R ("Therapharm"), for a total consideration of €2.6 million ($3.6 million) in cash and a total of 1,497,864 shares of RPS common stock, par value $0.0001 each ("Shares").  The cash element of the consideration is being satisfied from the Company's existing cash resources.
The acquisition of Therapharm, will complement RPS' current operations in the Americas, as well as further build upon the two acquisitions in Europe announced on December 22, 2008. The acquisition will, together with the two recent European acquisitions, provide RPS with greater scale to meet the growing needs of its customers in the rapidly expanding market for globally integrated clinical research services.  The Company is expecting the acquisition to be earnings enhancing in 2009.
Therapharm, founded in 1980, is located in Boulogne Billancourt, France. Therapharm provides clinical research services to the pharmaceutical industry and operates throughout Western Europe focusing its efforts on France, Belgium and Switzerland. For the year ended December 31, 2007, Therapharm had revenues of €7.8 million with earnings before tax of €0.7 million and as at December 31, 2007 had net assets of €0.5 million.
In relation to the acquisition, the relevant shareholder has entered into a share escrow agreement whereby 50 percent of the Share consideration for the acquisition shall be held in escrow, with such Shares held in escrow to be released in equal portions on the first, second and third anniversaries of completion, subject to there being no claims outstanding against the corporation being acquired (as defined within the acquisition agreement). In addition, the shareholder of Therapharm has agreed to a 12 month lock-up on all of the Shares issued as consideration.
Application has been made for the admission to trading on AIM ("Admission") of 1,497,864 new Shares and dealings in the new Shares are expected to commence on December 30, 2008. The new Shares shall, upon issuance, rank pari passu with the Company's existing issued Shares.
Following Admission, the Company will have outstanding 36,746,291 Shares and 1,357,179 Warrants (as defined in the Company's Readmission Document dated June 5, 2007).
Commenting on the acquisition, Dan Perlman, Chief Executive Officer, said:
"The acquisition of Therapharm combined with our existing operations in the Americas and recently announced European acquisitions of Infociencia and Imerem further enhances our ability to meet our clients' expanding global integrated research needs. The management of these three companies will remain in leadership roles with RPS. We are excited about the capabilities and experience that they are bringing to our organization inclusive of their sixty years of collective experience throughout Europe."
About RPS
RPS was incorporated in Delaware on January 30, 2006, while its subsidiary and operating company, ReSearch Pharmaceutical Services, LLC, and its predecessors have been in existence since 1994.  Headquartered in Ft. Washington, Pennsylvania, with subsidiary offices across Latin America and Europe, RPS is a next generation CRO and a leading provider of integrated clinical development outsourcing solutions to the bio-pharmaceutical industry. RPS provides services in connection with the design, initiation and management of clinical trials programs that are required to obtain regulatory approval to market bio-pharmaceutical products. RPS' innovative business model combines the expertise of a traditional CRO with the ability to provide flexible outsourcing solutions that are fully integrated within RPS' clients' clinical drug development infrastructure. This approach was designed to meet the varied needs of small, medium and large bio-pharmaceutical companies.
For further information please contact:
ReSearch Pharmaceutical Services, Inc.
Dan Perlman, Chief Executive Officer
Steven Bell, Chief Financial Officer
+1 215 540 0700
Nominated Adviser and UK Broker:
Arbuthnot Securities Limited
James Steel / Richard Tulloch
+44 20 7012 2100
CAUTIONARY NOTE REGARDING FORWARD-LOOKING STATEMENTS
This document contains "forward-looking statements" within the meaning of the U.S. Private Securities Litigation Reform Act of 1995. Forward-looking statements can be identified by words such as "anticipates", "intends", "plans", "seeks", "believes", "estimates", "expects" and similar references to future periods, or by the inclusion of forecasts or projections. Forward-looking statements are based on the Company's current expectations and assumptions regarding its business, financial condition, the economy and other future conditions. Because forward-looking statements relate to the future, by their nature, they are subject to inherent uncertainties, risks and changes in circumstances that are difficult to predict. The Company's actual results may differ materially from those contemplated by the forward-looking statements. The Company cautions you therefore that you should not rely on any of these forward-looking statements as statements of historical fact or as guarantees or assurances of future performance. Important factors that could cause actual results to differ materially from those in the forward-looking statements include regional, national or global political, economic, business, competitive, market and regulatory conditions including: our ability to identify liabilities associated with RPS; our ability to manage pricing and operational risks; our ability to manage foreign operations; changes in technology; and our ability to acquire or renew contracts. Any forward-looking statement made in this document speaks only as of the date on which it is made. Factors or events that could cause the Company's actual results to differ may emerge from time to time, and it is not possible for the Company to predict all of them. The Company undertakes no obligation to publicly update any forward-looking statement, whether as a result of new information, future developments or otherwise, unless otherwise required to do so by law or regulation.