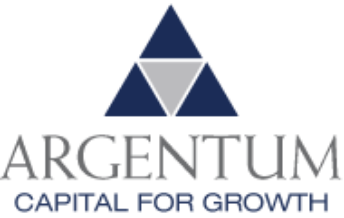 SA Capital Partners, LLC, an affiliate of Argentum, to focus on Management & Leverage Buyouts of Small & Mid Market Companies.
NEW YORK, NY – OCTOBER, 10, 2005 – SA Capital Partners, LLC ("SAC") is a private equity firm pursuing management/leveraged buy-outs of profitable middle-market companies.  SAC is an affiliate of the Argentum Group, a private equity firm founded in 1988 with approximately $400 million under management.  SAC will make its investments through both the Argentum Group family of funds and other partner private equity firms.
Walter Barandiaran, a Managing Partner and co-founder of Argentum, commented, "SAC adds a strong buyout dimension to Argentum.  We are pleased to join forces with Bill Staudt, an experienced entrepreneur and private equity investor, to have a specific focus on the buyout market.  We believe that the combined resources of SAC and Argentum, acting in concert with successful management teams, can create substantial value through the acquisition and operation of profitable middle-market companies."
SAC is typically seeking companies that have transaction values of $10 million to $50 million, minimum EBITDA of $2.0 million, strong management teams, an identifiable proprietary market position (e.g. market share, technology, brand etc.), a diverse customer base with no major customer dependencies, and solid growth prospects.  The industry areas of focus are light manufacturing, distribution, services, financial services and technology.  SAC has no limitations on the geographical location of its target companies.
SAC's management personnel have strong financial and operational backgrounds.  It is SAC's intent to assist the management teams of its portfolio companies to finance and grow their businesses, both through strategic and add-on acquisitions and by providing the necessary resources for organic growth.
If you have any investment opportunities that you believe would be of interest to SAC please contact:
Bill Staudt, Managing Partner
SA Capital Partners, LLC
60 Madison Avenue, Suite 701
New York, NY 10010
Direct Phone:  (646) 742-0073
Main Phone: (212) 949-6262
Fax: (212) 949-8294
E-Mail: wstaudt@argentumgroup.com
About The Argentum Group
The Argentum Group, founded in 1988, is a New York-based private equity firm that provides expansion capital to rapidly growing small and mid-sized businesses with market leading potential. Argentum targets those industries experiencing rapid growth or undergoing fundamental change in the areas of outsourced services, healthcare, and technology. Argentum emphasizes the concept of partnership investing; developing strong partnerships with outstanding entrepreneurs and assuming equal responsibility for building value. The funds primarily invest in later stage growth companies (with sales in excess of $5 million), management buyouts, platform acquisition strategies, and recapitalizations. Argentum serves as general partner of investment partnerships with over $400 million of capital under management; and is currently investing from two funds with total capital of approximately $215 million. Since its founding in 1988, Argentum has invested in over 100 companies in its targeted areas of focus.
For more information visit:  www.argentumgroup.com